Thank you for visiting the BRICKS n FUN website. BRICKS n FUN is LEGO specialty Store and Play centre which is situated in Brisbane's Bay side suburb of Capalaba. At BRICKS n FUN we try and cater for all your LEGO needs. There is a lot to see and do at BRICKS n FUN, and it's all related to LEGO ! Below is a brief outline of what is available.


| | | |
| --- | --- | --- |
| | | Opening Times |
| | | |
| | Monday | 1 pm to 5 pm |
| | Tuesday | 1 pm to 5pm |
| | Wednesday | 9 am to 5 pm |
| | | |
| | Thursday | 9 am to 5 pm |
| | Friday | 9 am to 5 pm |
| | Saturday | 9 am to 5 pm |
| | Sunday | 10 am to 4 pm |
| | Public Holidays | Hours vary, please ring the shop to check |
| | | |
Phone 07 3390 1288

After Hours SMS Mesasges 0400 957 503

Email bricksnf@tpg.com.au


CLICK above FOR THE LATEST UPDATES

Click on the LINKS below to get more information about the range of services we provide at BRICKS n FUN.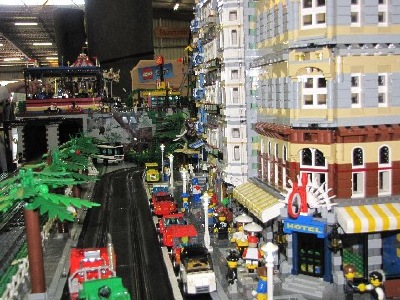 The display at Bricks n Fun is maintained by a small group of Adult LEGO builders. There is a very large and impressive LEGO Train layout as well as a large selection of LEGO models are on display. For a small entrance fee you get to see the display and see the working LEGO Trains including a theme park, fire fighters, LEGO cities and LEGO cars. It really is an amazing display to see.

There is also a History of LEGO display and a selection of large Technic models, and if you ask you might even get to see one of them working. There is also a very impressive STAR WARS collection on display.

Make sure you check availability ahead as sometimes there are birthday party groups booking the display area, especially on weekends and school holidays.

CLICK HERE FOR MORE DETAILS ABOUT THE LEGO DISPLAY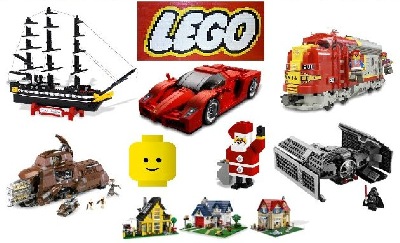 Ever wanted to build that LEGO kit but couldn't because you just didn't have all the right parts? Well now you can! At BRICKS n FUN you get to build from a huge selection of 100's of LEGO kits. From the simplest to rarest to the best ever kits LEGO has made. Build them all. All kits come complete and with full instructions. You get hours of fun. You also get to see the huge LEGO Train displays and maybe go in the draw to win a LEGO kit if you book a 2 hour BUILD SESSION and complete the quiz correctly. Come on your own or bring a group of friends and join in the fun. After School bookings and hourly rates are available. Cost is $8.50 per hour per child or $16.00 for 2 hours. Make sure you book ahead as Build sessions fill quickly, especially on weekends and school holidays.

CLICK HERE FOR MORE DETAILS ABOUT THE LEGO BUILD ROOM


For children under 5 years of age there is DUPLO CORNER, a place where the toddlers can also enjoy their type of LEGO while their older siblings are in the Buildroom. This area has a padded floor and is enclosed by a playpen to keep the toddlers safe. It even has its own train which toddlers can play with. Seats for parents are situated right next to the area so they can watch over their children. Parents are able to relax with a Tea or Coffee or cool drink and snack while their child enjoys the fun of DUPLO. Cost for the DUPLO play area is the same as the BUILDROOM.

CLICK HERE FOR MORE DETAILS ABOUT DUPLO CORNER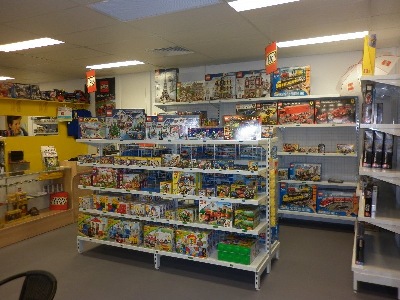 We have a very extensive selection of Old and NEWLY released LEGO kits and other LEGO branded products available for purchase. Stock is continuously being updated. Prices are competitive especially when you book a birthday party in the BUILD room and get a discount off your purchases. We also do mail order and lay-by. We offer loyalty cards where you can get 10% discounts anytime of the year.

CLICK HERE FOR MORE DETAILS ABOUT LEGO SALES


We have over 40000 LEGO parts for sale, so you will certainly be able to find most LEGO pieces you ever needed, if not we can order it in for you. Come with your own list of needed parts and the friendly staff will be find the parts you are after while you look at the displays. If its a big list you might need to leave it with us and pick it up later. The Staff are more than willing to assist in finding that elusive LEGO part. Note that there is a minimum purchase of $2.50 for part sales. Alternatively you can order parts online at our Bricklink Store.

CLICK HERE FOR MORE DETAILS ABOUT LEGO PARTS SALES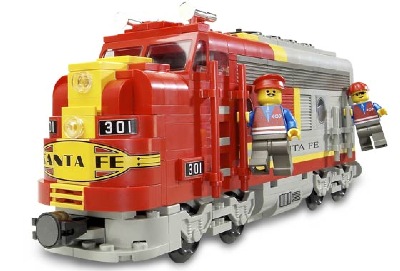 For the dedicated LEGO collector or AFOL (Adult Fan Of LEGO) come and see the ever changing selection of rare LEGO kits and other products for sale, most of which are not available in normal retail outlets. But be aware that kits don't stay long on the shelves, so if you see a kit you want its best to grab it, as it probably won't be there for long! We do offer a lay-by service if you wish to purchase and pay items off.

These items are for LEGO connoisseurs.

CLICK HERE FOR MORE DETAILS ABOUT THE COLLECTORS SHELF


Queensland Lego user Group is QLUG and is a group of Adult Fans Of Lego or AFOLS as they like to be called, who meet regularly once every 2 months to share their hobby of the LEGO brick with others who are like minded. They also have AFOL meetings which have a topic focus to start the ball rolling but are mainly designed to allow Lego enthusiasts to share their ideas. Click on the link below to find out more about when the next AFOL meeting is on. Ring the shop during business hours or use the Booking page to RSVP if you want to attend one of these workshop.

BRICKS n FUN is also associated with BRICK EVENTS pty ltd., a company that specialises in organising, conducting and managing exhibitions associated with LEGO creations made by the members of QLUG.

DETAILS FOR NEXT AFOL WORHSHOP

LEGO does not sponsor nor support this company. LEGO, the LEGO logo, the Minifigure, and the Brick and Knob configurations are trademarks of the LEGO Group of Companies. 2013 The LEGO Group. All content not covered by LEGO's copyright is 2013 - BRICKS 'N' FUN